Shortcut Bar is an incredibly handy app that connects you to all the files, folders and apps that you want lightning quick access to.

The app rests in your menubar and lets you add in as many shortcuts as you would like. Whenever you require access to these files and folders, simply click on the menubar icon and select the item from the dropdown list.

FIRST LAUNCH AND USING THE APP:

The app runs in your menubar on the top of the screen on your Mac. On first launch, you are presented with the preferences panel which appears as follows:
At this stage, we recommend you click on the 'Manage Shortcuts' menu to begin to add files and folders that you would like to gain immediate access to. The 'Manage Shortcuts' preferences menu is as follows:
ADDING SHORTCUTS:

To add a shortcut, click on the '+' button next to 'Shortcut Groups'. Upon doing so, you will be presented with a text box where you can label the group. You can also change the color of the group icon by clicking on the circle next to the group name. Please see the example below for reference:
To add respective files and folders under the new group you have created, simply click the item under 'Shortcut Groups' and then click next on the '+' icon that appears to the right of 'Manage Files, Folders & Web Bookmarks'. Upon doing so, you will be presented with a Finder window where you can select precisely the file or folder you wish to add under this group. Please see the screenshots below:
You can subsequently drag groups and files/folders individually on the Manage Shortcuts window to change their order on your drop down list within the app.
TYPES OF SHORTCUTS:
1. File & Folders: These shortcuts will allow you to quickly locate and open a file or folder that you add to Shortcut Bar.
2. Web Bookmarks: These shortcuts will open a specific web URL when clicked, e.g. google.com
3. Text Snippets: These are saved snippets of text that when clicked will add the text snippet to your clipboard and optionally automatically paste the text snippet into the active text field.
3. Color Swatches: These are shortcuts to your favorite colors. Clicking on a color swatch shortcut will copy it's respective color code (in whatever format that you choose) to your clipboard, allowing you to paste the color code to where it is needed, e.g. image or code editor.

USING THE APP:

To quickly access shortcuts you have created, simply click on the star icon in your menubar that corresponds to Shortcut Bar. This will open up a drop down menu where you can select the exact shortcut link to the file/folder you want to access. Double click on the item to open it in Finder/open the item directly. You can collapse and expand shortcut groups by clicking on the group name.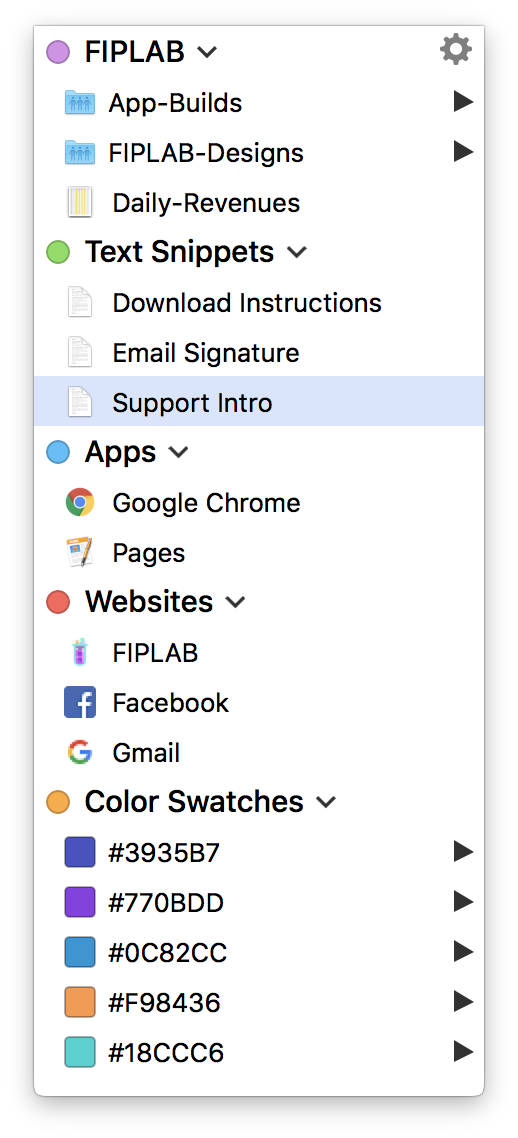 DELETING SHORTCUTS:

To delete a shortcut, you can either click directly on the shortcut item to highlight it under 'Manage Files & Folders' and then click the '-' (minus) icon. This will bring a message up on your screen asking you to remove this shortcut (you cannot undo this step). You can also delete an entire group altogether by selecting the group title by highlighting it under 'Shortcut Groups' and then hitting the '-' icon.
PREFERENCES:

To access the Preferences menu, simply right click on the menubar icon and select Preferences (alternatively, hit Command and comma on your keyboard when the menubar dropdown is open to quickly access Preferences).
You can use the Preferences panel to set the following:

- Start at Login: Toggle this on/off to make Shortcut Bar run or not upon booting up your Mac

- Show Icon in Dock: This will present the Shortcut Bar app icon in your dock, which once clicked, will open up the drop down menu from the menubar icon on the top of your screen.

- Hide Window on App Launch: When the app launches, you can toggle on/off the ability for the app window to be visible on your screen without being clicked the first time.

- Menu Click Action: Use this panel to select whether upon clicking on an item from your drop down list in the app, the item either appears in a Finder window (Show in Finder) or is opened up (Open File/Folder). If the item is a folder, it will be opened up to reveal its contents in Finder, and if its a file, it will be opened up directly.

DARK MODE:

You can toggle dark mode by going into your System Preferences, then General and then ticking the checkbox next to 'Use dark menu bar and Dock'.